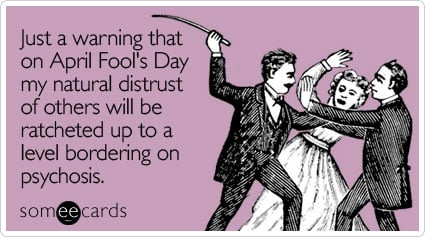 My April Fools' Day pranks have always been boring:
Cellophane on the toilet
Switch the salt and sugar
Randomly lie and then laugh at the person for being so "gullible"
I have no BIG pranks. At least not for April Fools' Day. Now, randomly mooning people when they least expect it? I AM A LEGEND.
My sister once left her camera at my house. I still have a copy of the photograph of "Hi Katie" written on SOMEONE'S butt.
I just don't think that my family will appreciate a good mooning since that's pretty much 50% of our family's natural state.
Then I remembered that my high school's senior classes were notorious for great pranks. The two best ones over the years:
Assembling a car in the middle of the school
Putting every single cafeteria chair on the roof of the school
But I just don't think that I could get our chairs on the roof today. It's been raining and I'm allergic to heavy lifting.
Maybe I should wake up early, make coffee for Scott and be nice to everyone ALL DAY LONG.
Nah, I don't want to give my family a heart attack. Or confuse my husband for April Sleep-Late/Cranky Day. Which I'm pretty sure is for the rest of the month.
So I ask: What's you best April Fools' Day prank?